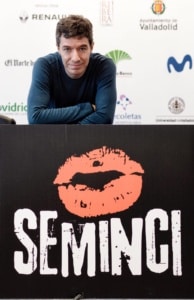 20/10/2019.- The feature-length documentary El cuadro, directed by Andrés Sanz, was screened in the DOC. Spain section this Sunday, October 20, in the presence of the director himself and film producer Antonio Gómez Olea, both of whom engaged in a brief discussion after the screening.
El cuadro reflects on the different interpretations that can be drawn from Velázquez, Las Meninas, one of the most studied works of art in history. In order to do this, they called experts on Velázquez, and used the stop motion technique to illustrate the documentary's unifying thread.
Filmmaker Andrés Sanz has directed many short films, such as the award-winning Bedford or La sombra, about the Thyssen-Bornemisza Museum in Madrid, El cuadro being his feature film début. Sanz admitted to being «thrilled about being able to screen the film at Seminci, a festival that has featured so many great movies».
Regarding the film's conclusion, both producer Antonio Gómez Olea and director Andrés Sanz confessed that it is impossible to solve the mystery behind Velázquez' painting: «This painting hides so many mysteries that after solving one you have to ignore the others if you want to try to get to the bottom of it», said the filmmaker.
Therefore, El cuadro is «a search for the truth carried out both by the filming team and the viewers themselves» and represents its director's «contribution to the mystery of Velázquez' Las meninas».