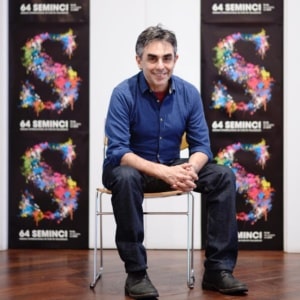 10/26/2019.- On Saturday, Argentinian director Néstor Mazzini and actress Andrea Carballo presented the film 36 horas, featured in the Meeting Point section. 36 horas tells the story of Pedro, who has a daughter called Flor, and an ex-wife called Erica. Pedro owns a film production company and gets into debt when it collapses, but he tries to find a way to pay off his debts.
Mazzini talked about the creation process: "The script took a lot of work. I had to rewrite it several times. It also changed during the rehearsals. The script was open to what could happen, it was dynamic. If something came up, we included it."
Actress and film protagonist Andrea Carballo praised her fellow countryman's story: "From the beginning of the process, since we started rehearsing, he told us that we could make our own contributions so the film was organic and natural. It's a realistic film, and we wanted everything to fall into place. It was very generous work for the cast, because we could shape it." Andrea Carballo had previously worked with Ricardo Marín in Séptimo, or in Letters to Paul Morrisey. The latter was screened at Seminci.
The film's director knew exactly what he was looking for in an actress in order for her to play the protagonist's role: "I was looking for some degree of fragility, I thought the contradiction was interesting. I saw a lot of actresses, but I wasn't sure about any of them. Andrea had a very sweet personality but conveyed strength at the same time. I wanted her to provide the character with that contradictory personality she had shown me."
Filmmaker Nestor Mazzini has worked as a director, producer, and cameraman, this being his second film after Que lo pague la noche. He has also directed two television mini-series, Cazadores de Misterios in 2015, and Ruta misteriosa in 2012.