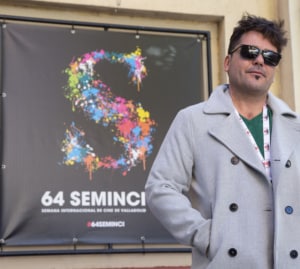 10/26/2019.- The Time of History section screened the short film El infierno by Raúl de la Fuente and the feature film The Cave by Feras Fayyad at the Cervantes Theatre in Valladolid on Saturday October 26.
The short film El infierno focuses on Pademba Road, the Freetown prison built in 1914 for 220 prisoners that accommodates more than 2,000 inmates today, many of them minors. It tells the story of Chennu, who committed his first street crime when he was 15 andwent to hell, Pademba Road, after that. Chennu managed to get out 4 years later,but he wants to go back in now.
Before thescreening, director Raúl de la Fuente said that the world premiere of the short film took place in Warsaw last week, but "this is the first timepeople watch it in Spain."
During the discussion, Raúl described the story as "very personal," because "I had the chance to go inside the prisonwhen I was shooting in Sierra Leone, and that made an impact in my life." He pointed out that the first time they went into film they couldn't believe their eyes: "It's like hell, the whole thing seems unreal."
The shooting, according to the director, was far from easy: "I was sleeping about 200 metres away from the prison, and I justcouldn't stop thinking about what was going on in there right then." Besides, when he tried to edit the film back home "I couldn't do it, I saw the images and Icould even smell the unbearable stench of the prison."
Even though El infierno was a hard experience for De la Fuente, he said: "What mattered was telling how people live in that prison, and at that I succeeded."
Last Saturday, Raúl de la Fuente's documentary won the award for Best Documentary at the Warsaw Festival, which qualifies him for the 2021 Oscar Awards. Besides, hehas also been selected for the 2020 Goya Awards.
The Cave, by Feras Fayyad
The Cave tells the story of how medical staff in Syria were forced to establish hidden underground hospitals to save the lives of their patientsand avoid losing staff and medical equipment, escaping the air raids in hospitals and the chemical weapons attacks that were killing so many people.
The Cavewon the Best Documentaryaward in the Time of History section of the Valladolid International Film Festival.