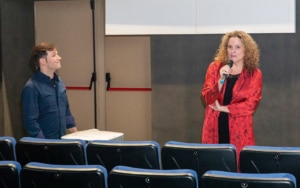 25/10/19.- Director Vero Herrero presented on Friday 25 October the feature film Aún se bendicen los campos, programmed in the section Castile and Leon in detail. The film pays tribute in poetical chapters to the towns in Soria which have been affected by depopulation.
The film is set and shot in a region in the Highlands, in the north of Soria province: "It is one of the purest places left in Spain. It has impacted all of us. We wanted to pay tribute to this region. We are losing important heritage and I hope this gives it visibility," the director added.
The filmmaker, Vero Herrero Mercader, presented the film highlighting the objective of the film: "It is an honour and a dream. Our objective is for people to know the highlands in Soria, which in itself is also unknown. This project tries to recover poetically how these towns were and why they were emptied."
Aún se bendicen los campos is a project which has been in process for three years, with a low budget, although it had the help of dozens of volunteers. It is Vero Herrero Mercader's first film as she self-financed it.
In the technical team there are professionals recognised in the Spanish industry, such as photography director, Paco Belda, who has worked in numerous occasions with Carlos Saura, or editor Cristina Otero Roth, filmmaker of El Bosco, el jardín de los sueños and usual collaborator with Javier López Linares.