The protagonist of 'La isla mínima' and 'El autor', who will read the letter from the Festival director at the Opening Gala, also participates in the documentary 'El tiempo robado. Tomás Salvador González' from our section Time of History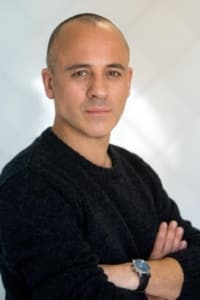 20/10/2020.- Actor Javier Gutiérrez, two-time winner of the Goya Award, will be the godfather of the 65th Valladolid International Film Festival and will be in charge of reading the festival director Javier Angulo's letter at the Opening Gala on 24 October. The actor also participates this year as the narrator of the documentary El tiempo robado. Tomás Salvador González, which will be presented the following day in the Time of History section, in which he participates out of competition.
Throughout the last two decades, Javier Gutiérrez (Luanco, 1971), born in Asturias and raised in Galicia, has participated in over thirty films, ten TV shows and numerous theatre plays. The theatre was precisely where Javier Gutiérrez was born as an actor, helped by Jesús Salgado, the stage director who gave him the opportunity to act in the plays La tinaja (1993) and La cabeza del dragón (1994).
Afterwards, Javier Gutiérrez acted in theatre plays such as En alta mar, directed by Vicente Rodado; Otro y yo, directed by Hugo Echarro; Santa Cruz, again under Salgado's directions, or La fierecilla domada, coordinated by Carlos Marchena.
Although he has always been linked to the company Teatro Animalario, from 2000 Javier Gutiérrez began to combine his performances on stage with his first appearances on TV. His participation in shows such as Los Serrano or Águila roja was crucial for his television career, and currently we can see him in the shows Vergüenza and Estoy vivo, for which he has won several awards.
Regarding his cinematographic career, he appears in films such as Crimen ferpecto (Álex de la Iglesia, 2004), El penalti más largo del mundo (Roberto Santiago, 2005), Un franco, 14 pesetas (Carlos Iglesias, 2006), La habitación del niño (Álex de la Iglesia, 2007), Las manos del pianista (Sergio G. Sánchez, 2008), Gente de mala calidad (Juan Cabestany, 2008), Zipi y Zape y el Club de la Canica (Óskar Santos, 2013) or A Nigth in Old Mexico (Emilio Aragón, 2013), among others.
Among other awards, in 2009 he won the Best Protagonist Max award for performing arts for Argelino servidor de dos amos. In 2014, he won the Silver Shell at the San Sebastian Film Festival and in 2015 he won his first Goya for best actor thanks to his impeccable performance in the thriller La isla mínima  (Alberto Rodríguez), a film that also won him awards such as the Ibero-American cinema Platinum, the Círculo de Escritores Cinematográficos award, the Feroz, the Sant Jordi and the Forqué, among others.
In 2016 he made his Hollywood debut in the movie Assassin's Creed, a part of which was shot in the province of Almería and in which he was cast together with Michael Fassbender, Marion Cotillard and Jeremy Irons, among others. He also starred in other very successful Spanish films, such as El desconocido (Dani de la Torre), Los últimos de Filipinas  (Salvador Calvo) or El olivo (Iciar Bollain). In 2017, he starred in El autor, directed by Manuel Martín Cuenca from Almeria, and repeated the feat he achieved two years earlier, winning the majority of the season's awards: he received his second Goya, a Forqué, a Feroz and a Unión de Actores, among others.
He dubbed Danny De Vito in the animation film Smallfoot, after which he had another Goya nomination as the protagonist of Campeones, a film directed by Javier Fésser which won the Goya for Best Film and became the biggest Spanish blackbuster in 2018. That same year he starred in Hogar, a film directed by David and Alex Pastor, and La hija, his reunion with director Manuel Martín Cuenca, which has not yet premiered.