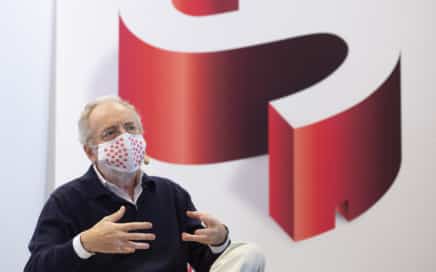 The Italian producer and director presents his third feature film at the 65th edition of Seminci
28/10/2020.- Uberto Pasolini has travelled to Valladolid to present his third feature film, Nowhere Special, in his unusual role as director. "I am a producer, I am not a true director," said the businessman behind hits such as Full Monty in his appearance before the press.
But, from time to time, Pasolini is struck by a true story. That's what happened with Machan (2008) and with Nunca Es Demasiado Tarde (2013), his two previous films. This time round, as he explained, he read in a newspaper the story of a father with no other family than his four-year-old son. The boy's mother abandoned them when he was a two-month-old baby, and the father was going to leave his son too, but for a very different reason: he was terminally ill. So he dedicated his last months of life to look for an adoptive family for his little one.
"I immediately felt that this was very special, and a chance to make a film about a slightly diferent love story: one that will leave a feeling of hope in life and in love. I began researching on death and adoption matters. I talked to many people who work in adoption processes, mediation,… and then I started writing," he explained.
The process has been identical to that of his two previous films: an initial big impression, then researching the topic, and finally writing the script. As he has explained, that story is like his baby: it's hard to leave it in someone else's hands. "So I end up directing those films myself."
A complicated casting
Choosing the main actors for Nowhere Special was quite a challenge. For the father's role, Pasolini knew that he wanted James Norton: "He is a very good English actor who has done a lot of work on television and in films, and he has two fantastic qualities: One is the ability to communicate a lot while acting very little. I wanted a very simple performance, without talking, without telling things all the time, without discussing everything. And the other is enormous generosity, which in this case he dedicated to building a true friendship with our young Daniel Lamont, who is 4 years old in the film and was also that age in real life at the time of shooting. Thanks James's generosity, they established a true friendship, a true love that shows on the screen."
As for Michael's role, the director and screenwriter gave his casting director a real challenge: she had to choose a child who was not an actor and had no previous experience in acting. After seeing 100 children and gradually shortlisting the candidates, they chose Daniel, and for this decision the interview with his parents was crucial. "We knew it was very important for the family to get involved, because at that age the logical thing is to get excited about a project for a few days, like with a game, but then get tired."
A tremendous surprise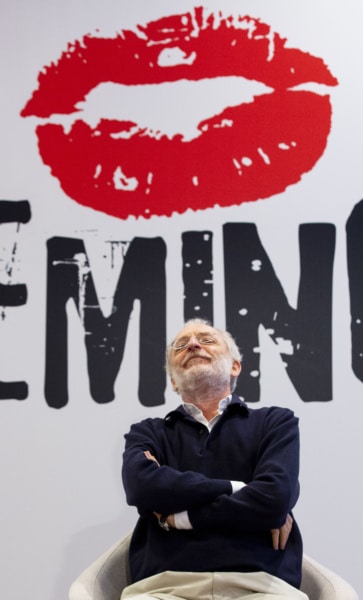 But, to the director's surprise, young Daniel turned up the 31 days of filming, without missing one, full of energy and with a big smile on his lips. And, to his greater surprise, he turned into Michael without the slightest effort as soon as the work began: "I had written a very silent, observant, introspective child… And Daniel played that character just as I had written it. I still don't know how we achieved that, but on the screen we can see what I imagined when writing the plot."
The director said that he only thought about the possible problems of shooting with a child after the script was finished, and that he had written it as if he were going to have two adult actors. When he took off his screenwriter hat and put on the director hat, the reality of what awaited appeared before him in all its rawness. Pasolini was worried. During a meeting in Berlin with Carla Simón, he asked for her advice, since she directed Verano 1993, a film in which a 6-year-old girl must adapt to her new adoptive family. She told him about the making of Ponnete, by Jacques Doillon, a film that received unanimous praise for the performance of the 6-year-old girl who stars in the drama of losing her mother; but she also advised he put a person next to the camera to give directions to Daniel. Of course, these directions would later have to be eliminated in the editing room.
So, prepared to shoot all the necessary footage and then eliminate sound, Uberto Pasolini unexpectedly discovered the self-reversing child, capable of going in one second from Daniel Lamont's most explosive natural joy of to Michael's introspection and seriousness by just hearing the word "Action!".
"You might have noticed —he told those present in the room after the first screening of his film at Seminci— most of the scenes between father and son are not cut. They are not mounted shots and counter shots, but scenes in which the two of them are in the same space. I swear to you that not once did I have to tell the child "say this" or "say that": what you see is a true relationship between the two actors in real time. There are scenes of up to a minute and a half, which are very long for a 4-year-old."
According to the director, it's magic, but as always in magic, there's a trick. As he himself explained, James Norton did excellent preliminary work with Daniel. He didn't only become his good friend, but he also explained when they were playing and when they were working. "There's no editing. It's a portrait of a true love story, because there truly is a love story between James and Daniel. It's like a miracle. Since the moment he read the script, James understood that the film would only work if the father-son relationship worked, so he put his efforts into becoming friends with young Daniel before and after shooting." One year after, they are still friends.
Pending premiere
The film hasn't premiered yet nor are there any signs of that happening soon due to the pandemic. It was launched worldwide in Venice, on 10 September, and now it arrives at the Seminci, but the theatres will have to wait: "We are going to start releasing it when people want to go out again, because the connection that is created with the spectators in a movie theatre is irreplaceable ".