The Irish filmmaker, author of My Left Foot and In the Name of the Father, highlights the "enormous honour" of receiving this award from a festival with such a "powerful history"
The Irish filmmaker Jim Sheridan, Espiga de Honor of the 67th edition of the Valladolid International Film Week, gave a master class on Thursday 27 October, Ireland Day at the festival, in which he declared that "conveying emotions in film is the most difficult thing, but also the most important". "In film there are two worlds: the visual one, with marks on the floor, lights… where there is a lot of control, and the emotional one," he added.
"The two worlds collide and sometimes you can't see the emotions that the actor transmits, but what I always try to look for in films are true emotions, which transmit". He made reference to the actor Daniel Day-Lewis, one of the performers in Sheridan's film My Left Foot, whom he praised, recalling that he got into character and became "a real person, not an actor".
The filmmaker noted that Day-Lewis stayed in the role the whole time. "It helped me a lot as a director because the eyes were on him and not on my bad work as a director," he joked. He also took the opportunity to praise the work of the actors. "Many people think it's an inferior profession, but it's not; in fact, there's another perception that compares actors to spiritual beings, to shamans who historically went to another world and brought knowledge. "This was the commitment that Day-Lewis had; he brought energy", he concluded.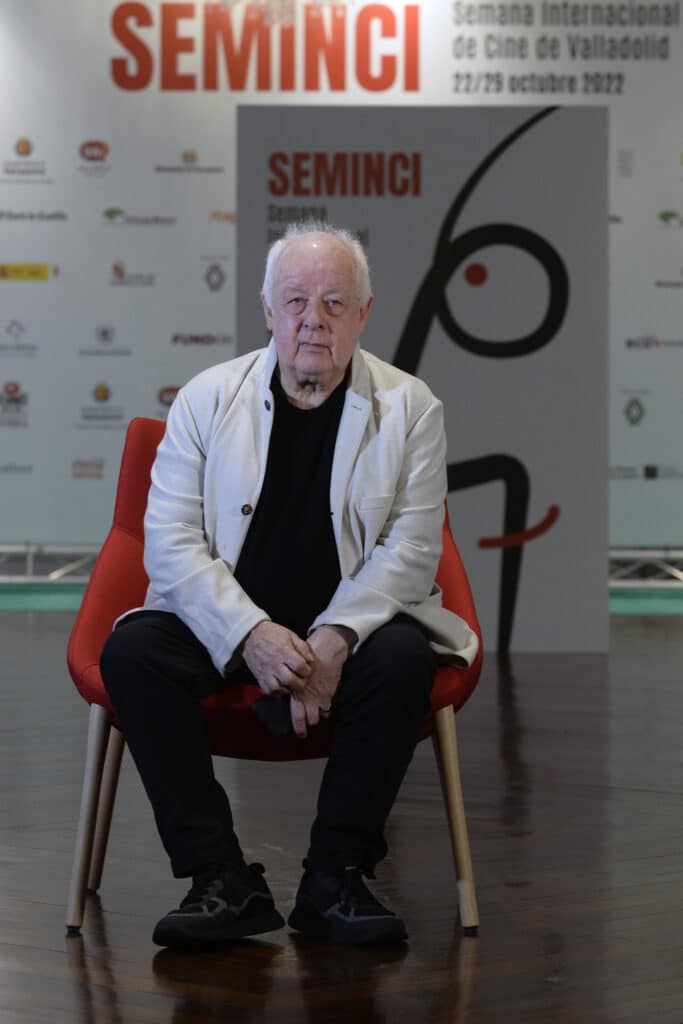 He also pointed out that the most important thing when it comes to selecting actors is that they know how to transmit those emotions that are so important to Sheridan. "It has to come from the actors themselves; I try not to manipulate them, I want them to be themselves. "A good actor is also someone who doesn't want to be on set, but when they are on set, they give their all," he said. The filmmaker, who will receive the award at the Closing Gala on Saturday 29th, said that receiving this recognition from a festival with such a "powerful history" is an "enormous honour". "When he read the list of the festival's award winners, he felt "overwhelmed" to be among them, he said, before highlighting the festival's roots: "I like that it has spiritual values; I think it's very good not to go into commercial cinema".
Sheridan, who recalled the long-standing historical relationship between his native Ireland and Spain, said that his interest in the world of cinema goes back a long way. "My father ran a theatre group and, following the death of my younger brother, he approached it more as a way of helping society. At that time, when I was only 16 years old, I started to collaborate with him". "My interest in filmmaking has always been there, but in Ireland, in those years I only knew a friend of mine who was doing it, but it was then that I thought that I could do it too, I started to read scripts, watch films… and that's where it all began".
With regard to the future of cinemas, he described as "obvious" the fact that the five big film distributors today are online platforms in the United States, which buy all the existing resources to make the recordings "through their own point of view". Thus, he assured that in that country "there is an insatiable anxiety of an emotional demand for superheroes who solve the world's problems, the positive thing is that they generate employment, but the approach they take is not very healthy".
The Irish filmmaker, who said that the film that most influenced him was The Godfather, revealed that he is currently working on several projects. "I'm always working on four or five scripts at the same time so that, in the end, I can choose the one that is most likely to become a reality". He said that he is currently working on an autobiographical project that tells the story of a family that moves to a small hotel.