The Valladolid International Film Festival (SEMINCI), together with the film festivals of Seville, Huelva, Malaga and, for the first time, Sitges, under the collective name of Profestivales21, join forces once again this year to bring the Ventana Cinéfila project to educational centres with a common objective: the cinematographic training of future spectators to broaden their social outlook and aesthetic sensitivity through recently produced European and Latin American films.
United by their belief in the power of cinema as a tool for knowledge, the Profestivales21 alliance launches for the third consecutive year this initiative to work with the educational community in the cinematographic training of viewers from an early age. Schools that wish to participate can register through the SEMINCI website.
Ventana Cinéfila offers, with the collaboration of Filmin, a free online selection of 24 quality titles by contemporary European and Latin American authors that will favour an active and transversal reflection on multiple subjects in the classroom, appealing to the present reality of any student from new and narrative-based approaches.
This online section, designed expressly for schools, is open to all schools who wish to take part in these activities on request. They are available from 6 October to 18 November. The proposal also includes a series of didactic guides on each of the titles and programmes which are available to teachers to enrich the debate in class before and after the viewing.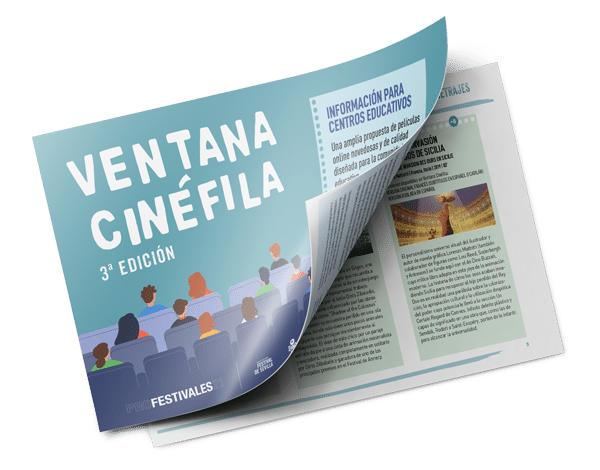 Feature films:
'Just Charlie', by Adrián Orr (Spain)
'Lola', by Laurent Micheli (France)
'Un disfraz para Nicolás' (A Costume for Nicolas), by Eduardo Rivero (Mexico)
'Obey', by Jamie Jones (United Kingdom)
'Home Team', by Carlos Andrés Morelli (Uruguay)
'The Bears Famous Invasion of Sicily', by Lorenzo Mattotti (Italy/France)
'Away', by Gints Zilbalodis (Latvia)
Short films:
LEARNING ABOUT OUR ECOSYSTEM (+3 YEARS):
'Vuela', by Carlos Gómez-Mira (Spain)
'Ursa, The Song of the Northern Lights', by Natalia Malykhina (Norway)
'Tourist Trap', by Vera Van Wolferen (The Netherlands)
'Sunday', by Neil Stubbings (Switzerland)
'If It Comes from Earth' by Egely Katakin (Hungary/Argentina)
'The Penguin and the Whale', by Ezequiel Torres and Pablo Roldán (Argentina)
LEARNING ABOUT OUR ECOSYSTEM (+8 YEARS):
'Packing a Wave', by Edu Glez (Spain).
'Mora Mora', by Jurga Šeduikyté (Lithuania)
'Meta', by Antje Heyn (Germany)
'Melty Hearts', by Patricio Cisterna and Manuel Cisterna (Chile)
'Footsteps on the wind', by Maya Sanbar (USA/UK/Brazil)
LEARNING ABOUT DIVERSITY (+3 YEARS):
'Mishou', by Milen Vitanov (Bulgaria)
'Me, a Monster' by Belinda Bonan (Spain)
'Franzy's Soup Kitchen', by Ana Chubinidze (Spain)
'Aurora', by Jo Meuris (United States)
'A-Choo', by Lee Bo-reum (South Korea)
'Bulit Listens To Nature', by Mikel Urmeneta and Juanjo Elordi (Spain)