The actor presents the Official Selection film accompanied by his son and talks about the situation in his country
Pamfir means rock, stone. A "beautiful, valuable" mineral, as defined by the actor Oleksandr Yatsentyuk, the star of Pamfir, the debut film by the Ukrainian director Dmytro Sukholytkyy-Sobchuk, presented in the Official Selection, and the story of a man nicknamed Pamfir who, after returning to his home town from Poland, where he works, is forced to take up smuggling again and confront the local chieftain to pay off a debt that his son has contracted. "It's a love story because it's about a father who loves his son", said the actor at the film's press conference, accompanied by his son Oleksandr, who lives in Spain and has acted as interpreter, who drew a parallel between the fate of his character and that of the population of his country in the current context of war. "Just as Pamfir is fighting for his future, we are also fighting for the future of the country", said Yatsentyuk, who expressed his hope that the current situation will end "soon".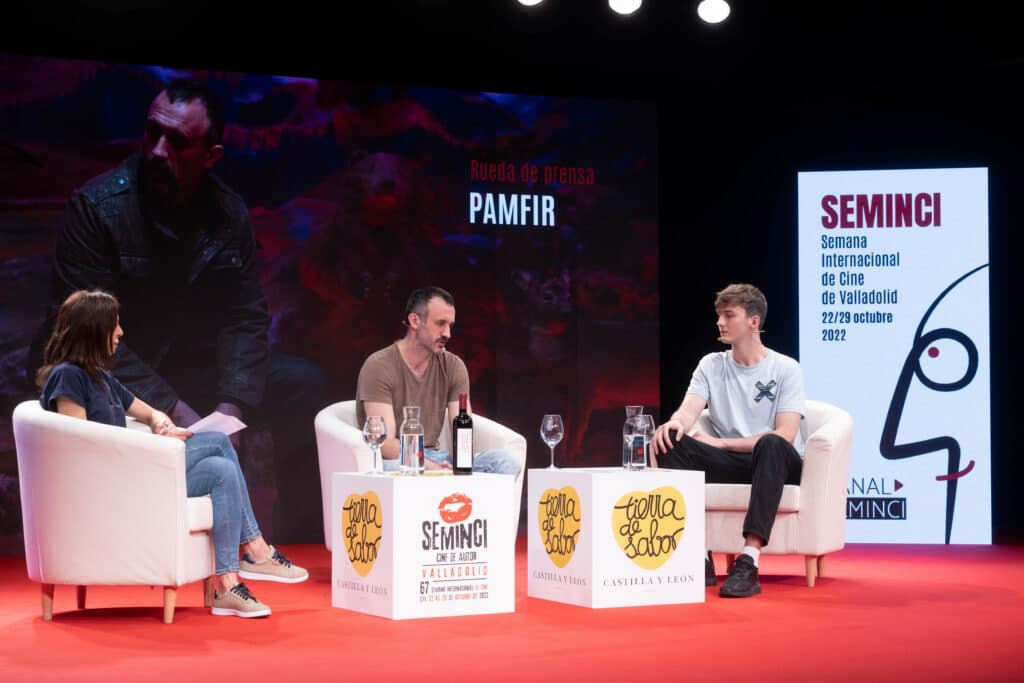 Pamfir is the first feature film by director Dmytro Sukholytkyy-Sobchuk and is influenced by his previous short films, Krasna Malanka (2013) and Weightlifter (2018). The former, a documentary, which was his graduation work, explored from an ethnographic perspective the typical carnival of the region of Bucovina, bordering Romania and where Pamfir is located, while the latter, a fiction film, already proposed the narrative articulated through sequence shots present in his feature film in competition.
The protagonist of the work has described the details of the selection process and the day-to-day running of the filming, for which he had to muscle up and gain weight over the previous fourteen months in a physical transformation that took him from weighing 86 kilos to 103, according to Yatsentyuk, who also joked about the preparation he had to carry out for the fight sequences, filmed, like the rest of the film, without any cuts, which meant that he had to carry out numerous rehearsals beforehand. "I had my fill of Redbull", laughed the actor, who also revealed that sometimes, after taking a few takes with the fatigue that this implies, the blows he received or delivered were real.
The actor predicted that the current situation in his country will lead to the emergence of "a new wave of Ukrainian cinema", which is currently paralysed by the fact that all government funds are being spent on fighting the invasion. "The film scene is not very well supported at the moment," Yatsentyuk acknowledged, who, at the end of the press conference, wanted to send a message of hope and gratitude. "We want to thank Spain for all the support it is giving to Ukraine. We are being attacked by an invading and terrorist country and we are all suffering, so we must unite as civilised nations and fight against it", concluded the actor.