Juan José Millás is probably one of the most complicated novelists to adapt. It requires a great deal of expertise to transfer his universe, in which reality and imagination overlap in multiple layers, to the big screen. A challenge that Antonio Méndez Esparza and Clara Roquet meet with flying colors in Que nadie duerma, in competition in the Official Selection of the 68th Seminci, which they presented this morning in a meeting with the media together with the film's producers, Miguel Morales and Pedro Hernández Santos, and its stars, Malena Alterio and Aitana Sánchez-Gijón.
"We had to eliminate one part of the novel and create a very different one," explained Méndez Esparza, its director, about the transition between book and film. Roquet, co-scriptwriter, added to this statement to emphasize the difficulty of translating into images the inner world of Lucía, a computer programmer who, after being fired, becomes a cab driver.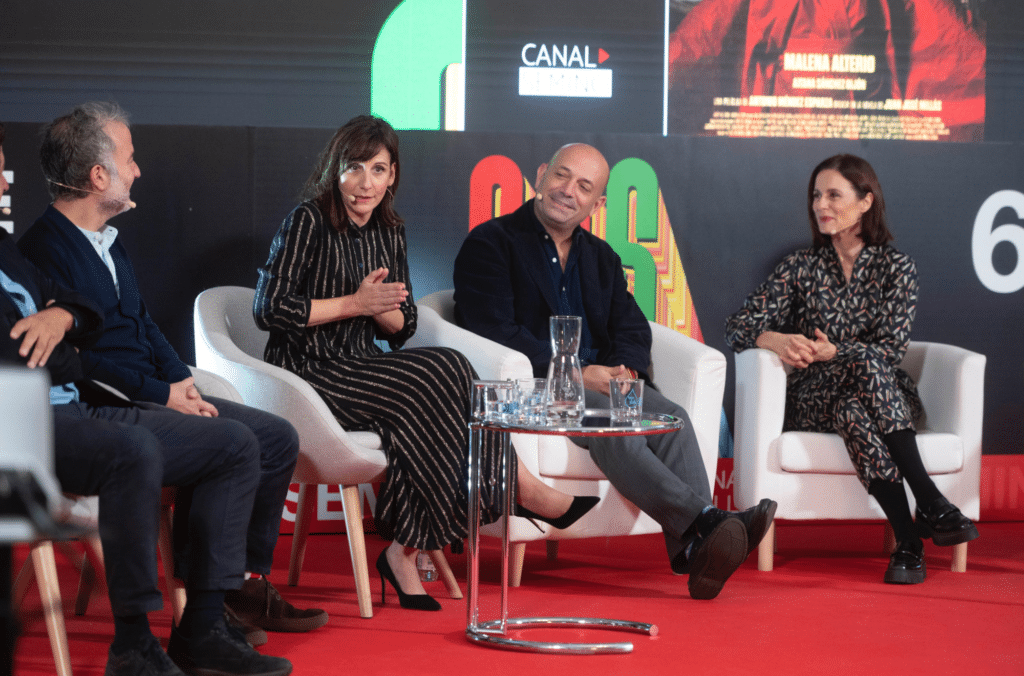 Malena Alterio gives life to this woman who takes refuge in her own fictions in a role that marks a turning point in her career and that Roquet has described as a female version of the protagonists of Joker (Todd Philips, 2019) and Taxi Driver (Martin Scorsese, 1976).
"I was building Lucía as we were making the film," explained Alterio, who thanked Méndez-Esparza for the "gift" of thinking of her for the character and for his way of shooting, in which improvisation and chance are common during filming.
"When it comes to creating, we are too bounded, driven, with predetermined ideas," said the actress, an inertia that she contrasted with the collective and daily work of the film, in which the script was almost a "guide". Aitana Sánchez-Gijón has expressed herself in similar terms and defined her work in the film as "a very happy game" and "a laboratory" in which, of everything shot, she did not know what was going to be left.