The French performer receives the award for her career in a tribute that will be completed tomorrow with the screening of 'The Green Room', in which she shared the screen with the legendary director
Nathalie Baye, one of the great actresses of the French scene, has received this Tuesday the Espiga de Honor of the International Film Week of Valladolid for a career that had the "luck" to begin with the legendary French filmmaker François Truffaut, with whom she debuted in The American Night (1973) and shared shot in The Green Room (1978), which will be screened on Wednesday at the Teatro Zorrilla as a complement to the tribute that the 68th Seminci offers her.
The interpreter, during a meeting with the media this morning, recalled how she came to cinema by "chance" and the experience of getting in front of the camera for the first time with a master like the author of The Four Hundred Blows (1959). "When you are lucky enough to start like that, you learn very quickly," recalled Baye, who, while laughing, confessed, during a meeting with the media, how the first time he saw him in his facet as an actor seemed "catastrophic" to him. "I did it very badly, it seemed very false and I was afraid of sounding like him," he continued in reference to that first experience before admitting that he ended up getting used to it.
In response to questions from the audience, Baye acknowledged that, in recent years, French cinema has not been going through its best moment. "I have received many scripts, but I have not been able to get into the stories," said the interpreter, who also explained that, "as happens in everything," filmmaking is going through different moments. 
Baye was born in 1948 in Mainneville, a small town in Normandy. At the age of 14, she left school to study dance in Monaco, before traveling to the United States to continue her training. Three years later, she returned to France, where she studied at the National Conservatory of Dramatic Art in Paris, graduating in 1972 with a second prize in comedy, dramatic comedy and foreign theater.
It was François Truffaut who gave her her big break in The American Night (1973), when Baye was about to sign a contract at the Hébertot theater (with Simone Valère and Jean Desailly). And with Truffaut she would work again in The Lover of Love (1977) and The Green Room (1978).
One of Baye's hallmarks is her versatility. Her on-screen chemistry and ability to embody complex characters have led her to play a wide range of roles, with a skill and emotional depth capable of connecting with audiences. Perhaps that is why her rise was rapid and dazzling, soon becoming one of the most reputable and sought-after actresses in her country, but also in Europe and America.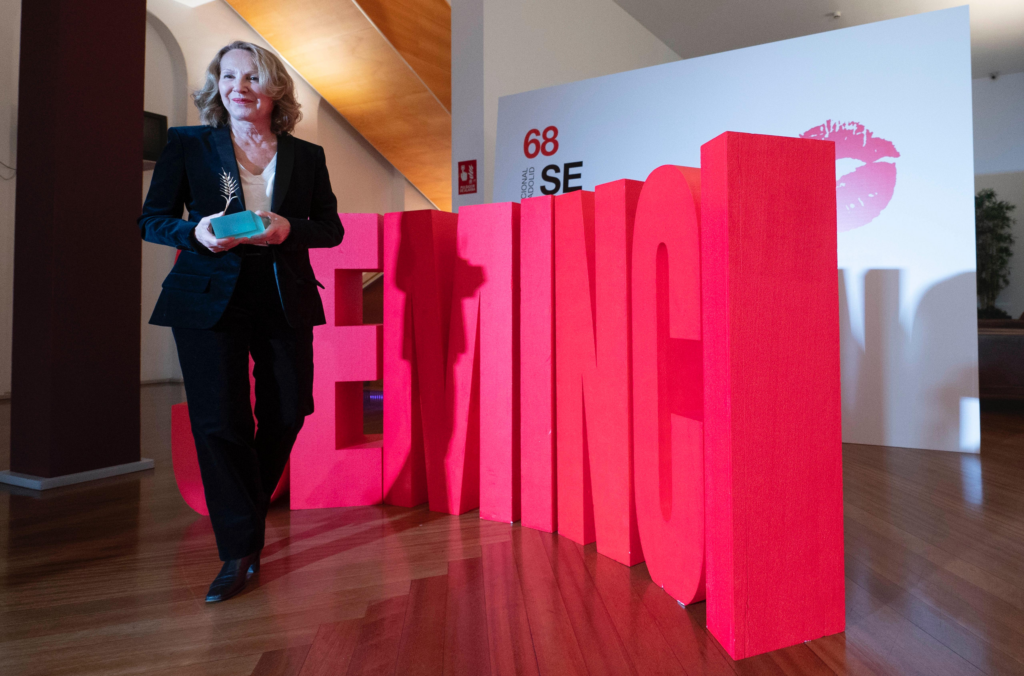 She has worked with some of the most important directors in the French industry, such as Jean-Luc Godard, with whom Baye showed her willingness to take risks and explore new territories in Hail who may (Life) (1980) and, later, in Detective (1985); Maurice Pialat (The Open Mouth, 1974); Bertrand Tavernier (A Week's Holiday, 1980); Tonie Marshall (Venus, Beauty Salon, 1999); Daniel Vigne (The Return of Martin Guerre, 1982) or Claude Chabrol (The Flower of Evil, 2003).
Outside his country he has also tasted success, thanks to films such as Catch Me If You Can (2002), by the American Steven Spielberg, or Laurence Anyways (2012), by the Canadian Xavier Dolan, among others.
At festivals, her talent has not gone unnoticed when it comes to receiving awards. Her memorable performance in A Private Relationship (Fréderic Fonteyne, 1999), in which she co-starred with Spanish actor Sergi López, won her the Volpi Cup for Best Actress at the Venice Festival, and her role as a controlling and excessive mother in My Son (Martial Fougeron, 2006) won her the Silver Shell for Best Actress at San Sebastian. She also has four César Awards (French equivalent of the Oscars): two for Best Actress for The Quince (Bob Swaim, 1982) and The Little Lieutenant (Xavier Beauvois, 2005), and two for Best Supporting Actress for the experimental Hail Who May (Life) (Jean-Luc Godard, 1980) and Une étrange affair (Pierre Granier-Deferre, 1981).