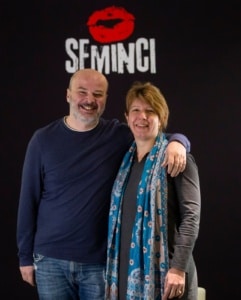 22/10/2019.- Fimmakers  Lasha Khalvashi (producer) and Tinatin Kajrishvili, and the director Tornike Bziava presented on Tuesday 22 October 22 their  respective films Brides and The April Chill, programmed as part of the retrospective 'Focus on Georgia' scheduled during the 64th edition of the Valladolid International Film Festival.
Produced by Lasha Khalvashi, Brides is the directorial debut of  Tinatin Kajrishvili. It was selected for participation in the Berlin and Tribeca festivals, while its protagonist Mari Kitia won the award for Best Actress at Sarajevo.
Tornike Bziava's The April Chill, on the other hand,  is a short film set in the violent events of April 1989, when Soviet troops violently charged against a peaceful demonstration in Tbilisi.