The projects are eligible for the Best Spanish Short Film award
10/30/2020.- The 65th Valladolid International Film Festival screens today, as part of its Meeting Point alternative section, five works competing for the Best Spanish Short Film award. Teatro Cervantes provided the  venue for this already classic feature in Valladolid's Film Week. The programme included the short films Ascenso, L'estrany, Si amanece, nos Vamos, Sintra III and Stanbrook.
Ascenso is a short film by Juanjo Giménez Peña, director and film producer specialized in this format who won in  2016  the Palme d'Or for Best Short Film with Timecode and is now a candidate for the Best Spanish Short Film award. Ascenso shows football  in two shots…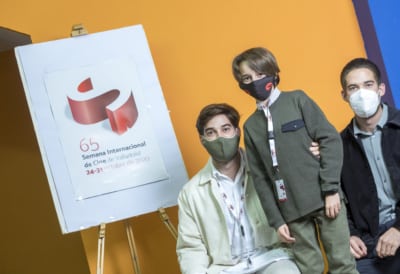 L'estrany, directed by Oriol Guanyabens Pous, tells the story of Amadeu, a nine-year-old boy who goes to a summer camp where he has a tough time. After managing to be accepted by the group, he finally rejecting  everything he has learnt. "I am so happy to be here. The short tells a personal story and being able to make the film  with my brother and my cousin has been amazing", said the director.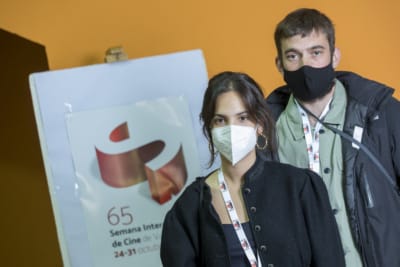 Si amanece, nos vamos, by Álvaro Feldman and Laura Obradors, tells the life of Sindi and Manuel, two young lovers who are forced to separate. "It is a blessing to be able to be here and premiere our short, not only at Seminci but also inside a theatre, given the current situation", said Laura Obradors. In turn, Álvaro thanked  the audience for attending the screening before confessing  that "it is the first time that I am going to see the short film on a big screen." He also said that being able to present his film in Valladolid was magical:  "the protagonist is from here and that makes the whole thing even more special".
Óscar Bernàcer's Stanbrook takes us back to 1939, when Captain Stanbrook and his crew witnessed the final days of the Spanish civil war.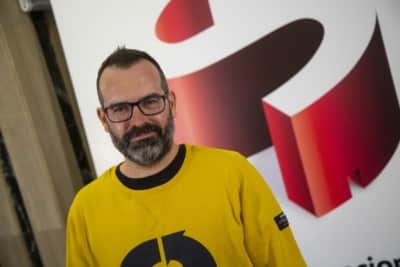 "Making this short was a complicated and hard job, and the satisfaction of pulling it through and  being here to screen it is immense", said the director. Óscar Bernàcer did not come alone to the presentation, since cast member Jonathan D.Mellor also joined the event. "I play a Briton at a very beautiful and at the same time sad moment in history. This  short was successfully completed  partly because Óscar is a very good person", he claimed. In addition, he jokingly added that he was  proud "to be in a competition with such young people".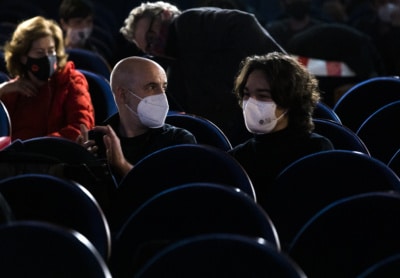 Sintra III, by co-directors Iván Casajús and Aitor Echevarría, deals with the story of Óscar, a man who is traumatized after the fatal accident of his girlfriend Elena and who one day discovers some cassette tapes that she had recorded and which now transport him again into  the past. Iván Casajús expressed his gratitude to the public attending the screening and added that "watching films in a theatre like today, especially for those of us who make short films, is a huge treat. We hope you enjoy the film as much as we did while we were making  it". The short's co-director Aitor Echevarría  unable to attend, but the film's team was also represented by actor Pau Rosell, who has confessed how happy he felt for "having been able to make my little contribution to this project".